I have written and compose some little Poems (more than 25) and Songs with lyrics (More than 15) .
I have also made Mache Paper works; (more than 10 but here there are only a few pics)...
SOME POEMS IN SPANISH AND ENGLISH:
Blue dragon: Mache paper. 2004. 22 inches long.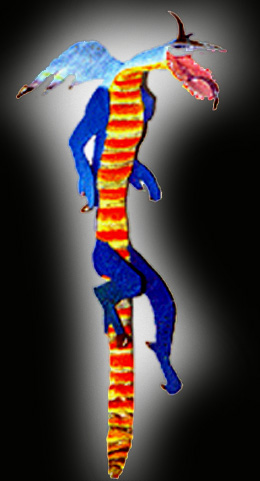 POEMS IN SPANISH LANGUAGE:
SOY
Oigo el espesor azul del mar,
Siento el murmullo de su oleaje,
Veo la grandeza del fondo
Y la oscuridad a la distancia.
Soy un ave blanca que espera,
Ver a lo lejos una esperanza
Para poder decir "Aquí estoy"
Y verme volando lejos, muy lejos
Y regresar, para poder valorar
Lo que he dejado atrás.
Soy un ave blanca
¡Y puedo volar!
A donde yo quiera
¡Me puedo retirar!
Vania Vargas
8 de abril de 1995. 4:40 p.m.
Toluca, México
Edad: 16
AMOR O TORMENTO?
QUE SON LOS AFECTOS SINO APEGOS QUE TE ATAN,
QUE SON LOS APEGOS, SINO ACCIONES QUE TE MATAN
TE MATAN LA VIDA POR CREER QUE AMAS,
TE MATAN EL AMOR POR SENTIRLO EN LLAMAS
TE FILTRAN EL AIRE, TE QUIETAN EL SUEÑO
TE COMEN LAS GANAS Y SE HACEN TU DUEÑO;
SE APEGAN AL ALMA, SE QUEDAN ADENTRO
Y CUANDO SE VAN SE LLEVAN EL CENTRO
TE QUEDAS SIN VISTA EN UN AGUJERO,
QUE SE HACE DOLOR AL PENSAR EN "TE QUIERO";
CARCOMEN AL DÉBIL, AL TONTO , AL CIEGO,
Y AUNQUE YA SE HAN IDO, LASTIMAN AL EGO
TODO SE VA, SE VA DE CORRIDO,
SE VA EL SENDERO, EL AMOR, EL AMIGO,
SE QUEDA EL DOLOR, LA DECEPCIÓN, EL HERIDO,
POR RETENER ALGO QUE CREÍAS "Mío"
POR MATAR EL AMOR, MATARLO DE FRÍO
MATARLO DE MIEDO, DE OBSESIÓN, DE HASTÍO,
POR PASIÓN DE LA RAZÓN, POR PASIÓN DEL CORAZÓN...
EL TIEMPO, EL BENDITO TIEMPO...
SE LLEVA LO PEOR DEL LABERINTO,
REDUCE EL DOLOR TE CALMA EL INSTINTO,
DEVUELVE EL AMOR, TE HACE MAS FRÍO,
CIERRA LA HERIDAS, DEVUELVE AL AMIGO,
TE HACE PENSAR, REÍR Y LLORAR;
MADURAS AL TIEMPO, SE LO LLEVA EL VIENTO,
TE QUITA EL TEMOR, TE APAGA POR DENTRO
DEVUELVE LA VIDA, COMPLETO TE ABRIGA.
TE CENTRA AL AMOR, DOMESTICA AL DESEO,
DA AL ALMA, LA SANIDAD DEL "TE QUIERO".
HASTA QUE REALMENTE COMPRENDES
QUE ESO NO ERA AMOR, AMOR VERDADERO
BASADO EN DOLOR, EN PURO RODEO
TE DA EL VALOR, PARA AMAR DE NUEVO
CON UNA NUEVA VISIÓN, SIN TANTA ESPERANZA
SIN TANTA PASIÓN, MUCHO MAS CENTRADA
EN LO QUE ES EL AMOR, EN LO QUE ES LA TARDANZA
EN DEJAR IR, PERDONAR Y DECIR "AVANZA".
V.V.
VANCOUVER , CANADA 31/05/06
"DESPERTAR AMERICANOS!"
> Llueve, el cielo llora
> Seca, la tierra muere
> America, quien mora?
> Sangra, la herida duele.
> Hermanos, Alzad las manos!
> Pensad, no sois villanos
> Inteligencia, necesitamos
> Voluntad, pobres no estamos!
> Despertamos?
> Argumentamos!
> Convocamos?
> Organizamos!
> Piensa, la tierra es tuya!
> Bebe, el agua tienes
> America, somos ayuda
> Cúrate, todo lo puedes.
v.v
1.53PM. 11NOV07
¿SERÁ POSIBLE?
Será posible conocerte así,
En el terreno de lo virtual,
Cuando las palabras fluyen sin igual,
Sin haber conocido tu rostro al natural,
Será posible sentir amor,
Cuando de pronto nace sin razón,
Por el hecho de coincidir en pensamiento
¡¿Estamos viviendo circunstancias de otros tiempos?!
¿Será posible querer a distancia,
Cuando lo que sientes, de por sí, ya es ganancia?
Mira hacia arriba y piensa sinceramente…
¿Será posible quererte sin conocerte?
¿Como es posible coincidir en un millón,
Cuando tu vives a distancias sin comparación?
Es un milagro seguir hablando,
Cuando otros ya han dicho antes haber amado.
El amor se funde, en una pantalla
Sin ni siquiera saber, si de verdad se calla,
Lo que se siente desde la distancia,
Sinceramente, buena suerte al que halla.
Es difícil creer el encuentro,
Cuando otros ya han experimentado lo que siento,
Sin saber aun cómo eres,
¡Triste corazón qué débil eres!
¡Vive sin saber! ¡¿cómo es posible?!
Porque la amistad queda después de la batalla,
Bonita amistad, es la que tenemos,
Pero dejo abierto el corazón para ver qué viviremos.
Vania Vargas. 28/02/2001.
10:51 am. México
SONG AND POEM:
PINTA LOS COLORES DE GRIS:
Pinta los colores de gris,
Pinta la tristeza sutil,
Llueve, es amargo el sufrir,
Puede tu presencia huir.
Desde que no te ví,
Esta lluvia de abril,
Fría es al sentir
Que ya no haz de venir.
Cada que sale el sol,
No elimina el dolor,
Hace falta el sabor,
Hace falta el color.
Pinta los colores de gris,
Gotas se derraman en mí,
Triste ahora es la canción,
Eco hace en mi corazón.
Tuya soy al pensar,
Mi amor ha de volar,
Donde quiera que estés,
Este te ha de tocar.
Diluyendo el color,
En el agua mi amor,
Se concentra el temor,
Hace falta el valor.
V.V. 25-03-07 1:30 AM.
UN "DEJA VU" ESTANDO DESPIERTA:
AGUAS AZULES:
Y las aguas se alzarán sobre los edificios relucientes,
Paredes de agua azul cubrirán el sol ardiente,
Sombras cubrirán las calles llenas de motores
Y millones de gentes nadarán contra corriente,
La Ciudad de los necios, esnobs que nunca creyeron
Superiores a Dios todos se sintieron,
Ciudad bajo el mar sin aliento, ni gente
La circundan peces y burbujas, aún con yacientes,
Los pocos escaparán para contar la muerte
Medios centrarán su atención y ayuda a los dolientes
Países enteros se unirán para ayudarlos,
Víctimas se sentirán y sospecharán de los incautos,
Culpas asignarán al peor de los hermanos.
NOTA:
De repente me dio por escribir esto, mientras miraba la película de "El Abogado del diablo" el 14 de Octubre del 2004. 10:20 p.m. * Dos meses antes del Tsunami en Asia.
V.V.
SOME SONGS IN SPANISH:
LAS MANOS
Versión original en espanol.
Todo empezó como un juego,
Que término siendo fuego,
Que avivó la ilusión,
Que se hizo distinto,
Donde se abrió un abismo,
En donde todo cayó.
Las caricias se hicieron,
Las pasiones emergieron
Y todo se aloco…
Amárrame las manos por favor,
Yo te lo pido,
Amárrame las manos por favor,
Es mi castigo,
Amárrame las manos Corazón,
No quiero ya causar más confusión,
Amárrame las manos ¡OH razón!
No quiero ya causarte más dolor…
Las manos se tocaron,
Los labios se acercaron,
Y surgió la atracción…
Vida propia tomaron,
Las luces se apagaron
Y todo comenzó…
Amárrame las manos por favor,
Yo te lo pido,
Amárrame las manos por favor,
Es mi castigo,
Amárrame las manos Corazón,
No quiero ya causar más confusión,
Amárrame las manos ¡OH razón!
No quiero ya causarte más dolor,
Amárrame las manos por favor,
Amárrame las manos por favor,
Amárrame las manos por favor,
Eres mi amigo, Eres mi amigo, Eres mi amigoooo!!
Vania Vargas (V.V.) BC, CANADA 21/SEP/06
MUSIC:
Playing a little bit with the drums...
SOME VIDEOS AND
CRAZY THINGS...
Take a look to my crazy channels on You Tube: vaniartistic channel
https://www.youtube.com/user/vaniartistic
or Vania I Vargas channel
https://www.youtube.com/channel/UCf3ucg9u9xk0_0SEGxqUrjA
Thanks for watching! :)
Mache Paper figures. "Champion"1995 and "Money Pegasus" 2004. 12 inches tall.
"Adler" Mache Paper figure. 1998.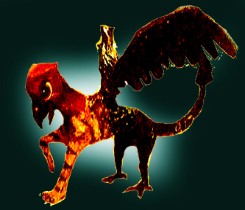 POEMS IN ENGLISH LANGUAGE:
ROCKY MOUNTAINS: TEARS OF GOD

Mount Robson and Thompson,
giants of rock and stone,
watching the sky together,
even though there is bad weather.

From Moraine of the ice field
of Athabasca to the green field
the water of rivers,
give life to elks and beavers.

Lots of trees standing firmly
where the bears are hiding nearby,
reach the mountains to the middle,
where the view is for the eagle.

Rocky Mountains is the name of beauty,
where the natives make their duties,
to preserve for many years,
all that was made with God's tears.
Vania Vargas
26th May 04
11:04 p.m. Calgary, Sheraton Hotel.
JUST A DAUGHTER:
I consumed a bucket of propane
To make explode your heart with each detail I made
I threw away fireworks to catch your eyes,
on the colors of the stars.
My ego was so big
In order to please
your most exquisite delight,
but suddenly nothing was enough,
till I had wasted all the love.
Emptiness desolated my heart
as an atomic bomb stops a war.
I made a hero of hope and tenderness
while the feeling of attachment,
disappeared with softness.
I couldn't feel anything inside,
just indifference till I realized,
that all the love,
which had been wasted with the tokens of my heart,
was good enough to make you feel the love of an "Anak"
"Anak" was all that I wanted to hear,
In order to belong to your very closed team
Stupid of me, I was already inside!
while my love had returned as spirit in the night,
it wasn't so strong as in the first tie.
But still there is a flame,
That is burning deep inside,
Ready to create more big bonfires!
Vania Vargas. May 11th 04
9:44 a.m. Canada.
Note: Anak: Means daughter in Tagalog (Philippines) Language
MONSTERS OF PAPER
Monsters of paper in our minds,
Running after us with every excitation,
Faster than the winds come to tell us explanations
About scary worlds,
That let us feel the fear of machinations.
But all of them are made of dreams,
They are only our monsters of paper.
Use the blood of your heart,
To melt every peace of them,
Which stronger than the steel
Suddenly will become sand in your feet
Monsters of paper that we have made
With our childish fears,
If you are brave to wet them and destroy them,
They'll never run after you in any kind of new dream!
Vania Vargas
19th May 04. Canada
A REASON…
HOW MANY TIMES THE HEART CAN GIVE YOU A REASON?
HOW MANY TIMES WE'LL HAVE TO WAIT THE SEASON?
FOR HOW LONG DO WE HAVE TO LEARN THE LESSON?
AND HOW COME WE CANNOT LEAVE THE PRISON?
WHAT IS LOVE? IS THAT ONLY A MACHINATION?
WHAT IS DETACH? IS THAT ONLY AN ILLUSION?
WHAT DO WE DO WITH THAT STUPID INFORMATION?
WHY DO WE FEEL SORRY WHEN TELLING EXPLANATIONS?
GIVE ME A REASON TO UNDERSTAND THIS FEELING!
GIVE ME A REASON TO KEEP MYSELF LIVING!
GIVE ME A REASON TO LOVE YOU AS I LOVE YOU!
GIVE ME A REASON TO LEAVE YOU WITHOUT HURT YOU!
ALL IS CONFUSING, I'LL TELL YOU MY OPINION
ALL IS AMUSING WHEN ALL WE ARE IN UNION
WHAT IS PEACE WHEN ALL IS A BIG MESS?
HOW CAN I ORDER MY THOUGHTS, BY THINKING LESS?
PLEASE TELL ME SOMETHING COMFORTING
PLEASE TELL ME WHAT BUTTON I HAVE TO PRESS?
TO UNDERSTAND ALL THIS BIG STRESS
AND TO RELIEF THE PAIN AND CONFUSION AS WELL?
V.V.
VANCOUVER, CANADA 5/06/06
DARK DENSITY
LYING DOWN BESIDE YOU,
MY LIFE IS FINISHING SLOWLY,
TIME IS CONSUMING ME, AS A CANDLE LIGHT
MY HEART IS BITING FAST,
AND MY SOUL IS SHIVERING
LONELINESS IS BIGGER NOW
AND THE EMPTINESS UNFORGETTABLE
WHY THE NECESSITY OF YOU?
WHY THE DEPENDENCE ON YOU?
DYING SOFTLY UNDER THE GRAY RAY
EVAPORATING AS A CLOUD OF SMOKE
ANY TIME WITHOUT YOU IS DEATH, IS DEATH
TIME IS NOTHING NOW IN THE DEPTH
THE HOLE IS DARKER AND SCARY
IN SOME PLACE THE LIGHT WILL COME BACK
AT THE END OF THE LONG TUNNEL…
LYING DOWN BESIDE YOU IS DEATH
THERE IS NOTHING ELSE
BUT IT WILL BE SOME DAY AGAIN.
SOME DAY AGAIN.
V.V. VANCOUVER, CANADA, 20/09/06
ABC…ADVICES FOR LIFE
As a wild river you cannot tame
Being a player who plays the game
Come to see If you have blame
Deliver the spark to make a flame
End the task, don't be a lame!
Feel the hope and be a Dame
Grab the feeling of being the same
Hesitate well what you have made
Insert the new movie and go ahead
Joy is waiting, don't see the rain!
Keep the peace all inside of your brain
Love the place from you came
Move out your soul to the right lane
Nab in right time and ride your plane
Opt to take the best way
Put up with your whole pain
Question your acts, don't miss your trend
Reach the top, which is your gain!
Stop the whine, don't complain
Teach others to seed the grain
Use the knowledge and then train
Vie with life but don't get taint
Wage the journey, never faint
Xield the happiness and make your paint
Zip your song and sign up your name… V.V.
5th may 2006. 11:58 p.m. Canada
SOME SONGS IN ENGLISH:
TATTOOING MY HEART:
(Original version in English)
You don't even know
What you have done to me
The power of your ink
Just came into my blood stream
Tattooing my heart
Has been just so hard
The weird of the relation
Just came out from the imagination
Tattooing my heart
It was something that you just did
Tattooing the skin
Trying with immortality
The smell of the blood
Coming out when the needle hits
It's just turning you on
It's just leaving your master piece
Tattooing my heart
The line was just so deep
The deer and the wolf
Have gone this time so far
Tattooing my heart
Try to erase this scar
Trying to drink the gin
Better go and smoke the green
Nobody will see
Never this great work
Because its just so hide
Because it is just so high
Tattooing my heart
Tattooing my heart
Tattooing my heart…
V.V. CANADA, 11/10/06